Date:
Saturday, August 16, 2014
Distance: 125 miles
Start Time: 6:00 am
There will be a mass start at 6 AM and announcements and time for questions at 5:45 AM. Note: Arizona does not observe Daylight Savings Time, and stays on Mountain Standard Time year-round. For example, in the summer months, during Daylight Savings Time, the time in Arizona and California is the same; Utah, Colorado, and New Mexico are one hour ahead.
Start Location: Safeway in Show Low (Get directions)
Time Limit: 13.5 hours
Sunrise:
5:42 AM
Sunset:
7:06 PM
Cost: $20
RUSA sanctioned.
This route is one large loop starting and ending in Show Low, AZ. The loop passes through rolling grassland to the Springerville/Eager area, after which it enters the White Mountain lake country with a stop at Big Lake, and then returns to Show Low.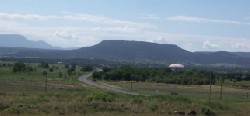 Leaving Show Low and heading for Springerville, AZ. Photo courtesy Bruce Chandler.
Location: Safeway in Show Low
Address: 900 W. Deuce of Clubs, Show Low, AZ
Directions:
Safeway is just north of the intersection of routes 260 and US 60, and just south of the Days Inn where we used to meet.
View on line map here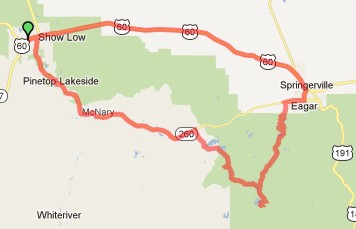 Cue sheets will be handed out at the start of each event. Copies are provided here for planning purposes. Make sure you use the cue sheets provided on the morning of the ride. They will be the most up to date.
5,380 feet of climbing. Highest point on the route is 9, 500 feet above sea level.
Lights: Optional. However, if you're still riding after sunset, you need lights as required by law
The first store you are likely to encounter is about 47 miles into the ride. After that, there are services every 25-40 miles. You'll find services in Springerville, Eager, Big Lake, Hon Dah Casino, and Pine. A hydration system is highly recommended.
| Rider Name | RUSA # | City | State/Prov |
| --- | --- | --- | --- |
| Carlton van Leuven | 4713 | Chandler | AZ |
| Deven Gudinas | | Peoria | AZ |
| Garlen Gudinas | | Glendale | AZ |
| Gerry Goode | 60 | Tucson | AZ |
| Guy McArthur | | Tucson | AZ |
| Jan Cesnek | 10270 | Phoenix | AZ |
| John Ingold | 3065 | Flagstaff | AZ |
| Julie Brass | 9284 | Scottsdale | AZ |
| Kevin Arps | 3611 | Phoenix | AZ |
| Kurt Smith | 6398 | Gilbert | AZ |
| Lee Wilkening | 10970 | Phoenix | AZ |
| Patrick Rinckey | 9303 | Tucson | AZ |
| Peter Vlad | | Tempe | AZ |
| Robert Larson | 9945 | Phoenix | AZ |
| Roger Peskett | 3726 | Tucson | AZ |
| Russell Cummings | 5815 | Prescott | AZ |
| Steve Brass | 9283 | Scottsdale | AZ |
| Steve Atkins | 3359 | Tempe | AZ |
| Thomas Altemus | 4464 | Tucson | AZ |