Date:
Saturday, February 2, 2013
Distance: 190 miles
Start Time: 6:00 am
There will be a mass start at 6 AM and announcements and time for questions at 5:45.
Start Location: Round Trip Bike Shop (Get directions)
Time Limit: 20 hours
Sunrise:
7:24 am
Sunset:
5:56 pm
Moonrise:
4:51 AM Sunday morning, so it's not going to be much help.
Cost: $20 All riders must pre-register. (No day of event registration.)
ACP sanctioned.
Starting in Casa Grande, the route passes through the cotton fields of Coolidge before heading south on SR 79 (Pinal Parkway) which is designated as a scenic highway. Just before Tucson in Oro Valley we turn west and take Tangerine. On the west side of Tucson, we climb up and over Gates Pass (the easy way) and into Saguaro National Park. The route returns north again through the agricultural town of Marana and passes in the shadow of Picacho Peak before returning to Casa Grande. Terrain: Flat for the first 30 miles through Casa Grande and Coolidge, then a slight, steady but very long climb on Pinal Parkway (SR79). Once you get off Pinal Parkway, (mile 68) it's a long downhill into Tucson. The only other obstacle is the steep climb up Gates Pass and the screaming descent on the other side. There are a few choppy hills through Saguaro National Park. The last 60 miles are flat and travel through the fields of Marana, past Picacho Peak, and finally back to Casa Grande. Total 3,883 feet of climbing. Greg Olmstead's RideWithGPS map
Location: Round Trip Bike Shop
Address: 1148 E. Florence Blvd, Casa Grande, AZ.
Click
HERE
for a Google map of the start location.
Lodging in the area:
View List
View on line map here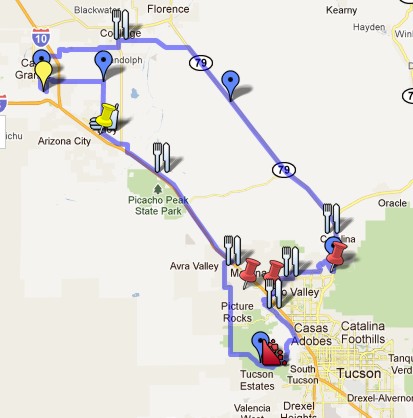 Cue sheets will be handed out at the start of each event. Copies are provided here for planning purposes. Make sure you use the cue sheets provided on the morning of the ride. They will be the most up to date.

Feb 2011: The route has changed slightly since I made this elevation profile, but this is still a good representation of the route. In Feb 2011, Alan Travis recorded 4,968 feet of climbing. Leonard Zito recorded 4,701 feet.1. Town of Coolidge 2. Tom Mix Monument, checkpoint #2. Grade is less than 4%, but as you can see, it goes on for miles.3. Right onto SR 77/89 in Oracle Junction. Relief, at last.4. Turn from Silverbell to Sweetwater. 5. Gates Pass. Steep Steep climb up: 4%-13% grade, but a blast going down the other side.
Lights: Required. There will be a light inspection at check-in to verify front and rear lights are working and are sufficient for night riding. Also required are reflective vest or sash and ankle reflectors.
Mile 0, checkpoint #1: Bathrooms available at the start.Mile19: Circle K in Coolidge. (No public bathrooms)Mile 43:Tom Mix Monument. Snacks and beverages provided. If you're getting warmed up you can give me extra clothes which you can retrieve at the finish. Please do not give me lights or extra batteries. Anything could happen on a ride like this.Mile 76, checkpoint #3:Food and services at the mall at this intersection including Oro Valley Bike Shop.Mile 85: Frys in the mall at corner of Tangerine and Thornydale.Mile 102-111: Several grocery stores on Silverbell.Mile 120, checkpoint #4: Sandwiches, snacks, and soda provided by brevet volunteer. Mile 143: Circle K in Marana.Mile 159: Dairy Queen and Picacho Peak mall. They may close at 6 pm.Mile 173: Eleven Mile Corner Rd in Eloy. Circle K.
| Rider Name | RUSA # | City | State/Prov |
| --- | --- | --- | --- |
| Adam Lock | | Chandler | AZ |
| Allen Booker | 8286 | Tempe | AZ |
| April Becerra | 6381 | Glendale | AZ |
| Art Grijalva | 5841 | Peoria | AZ |
| Bob Lynn | 6366 | El Paso | TX |
| Boyd Frick | | Gilbert | AZ |
| Brian McGuire | 7406 | Phoenix | AZ |
| Bruce Gardner | | Glendale | AZ |
| Bud MacRae | | Lake Havasu City | AZ |
| Carlton van Leuven | 4713 | Chandler | AZ |
| Clint Wisdom | 9242 | Chandler | AZ |
| Craig Mills | | Phoenix | AZ |
| Dale Jacobs | 7379 | Peoria | AZ |
| David Brake | 7351 | Mesa | AZ |
| David Holdeman | 5332 | Scottsdale | AZ |
| Dennis Sieber | 9202 | Anthem | AZ |
| Dick Wiss | 2993 | Phoenix | AZ |
| Gerry Elam | 6882 | Phoenix | AZ |
| Greg Sarbo | | Gilbert | AZ |
| Ilyssa Summer | | Tempe | AZ |
| Jack Twitchell | 3826 | Pomona | CA |
| Jim Pettett | 5824 | Cave Creek | AZ |
| Joey Korkames | 5906 | Phoenix | AZ |
| John Ingold | 3065 | Flagstaff | AZ |
| Karl Groll | | Tucson | AZ |
| Kate Van Roekel | | Tucson | AZ |
| Katherine Mahaney | | Chandler | AZ |
| Kathy Twitchell | 4684 | Pomona | CA |
| Lonnie Epic Wolff | 3100 | Cedar City | UT |
| Margaret O'Kelley | 5541 | El Paso | TX |
| Mark Gregory | | Vadnais Heights | MN |
| Mark Mandel | | Green Valley | AZ |
| Matthew Jungers | 8020 | Phoenix | AZ |
| Michael Barbour | 9248 | Queen Creek | AZ |
| Michele Brougher | 5558 | St Louis Park | MN |
| Mike Sturgill | 1847 | Phoenix | AZ |
| Mike Enfield | 2751 | Mesa | AZ |
| Phil Kotofskie | 6648 | Tucson | AZ |
| Ronaele Foss | 3147 | Colorado Springs | CO |
| Ryan Guzy | 6005 | Tempe | AZ |
| Scott Walters | 6036 | Tempe | AZ |
| Stephen Kenny | | Calgary | AB |
| Steve Atkins | 3359 | Tempe | AZ |
| Vincent Dominguez-Schugt | 3071 | Saint Paul | MN |