Date:
Saturday, March 24, 2018
Distance: 187 miles
Start Time: 6 am

Start Location: WalMart, Miami (Get directions)
Time Limit: 20 hours
Sunrise:
5:39 AM
Sunset:
19:03 (7:03 PM)
Moonrise:
9:31 PM
Moonset:
8:04 AM Sun. Civil twilight is 7:29 PM
Cost: $30
ACP sanctioned.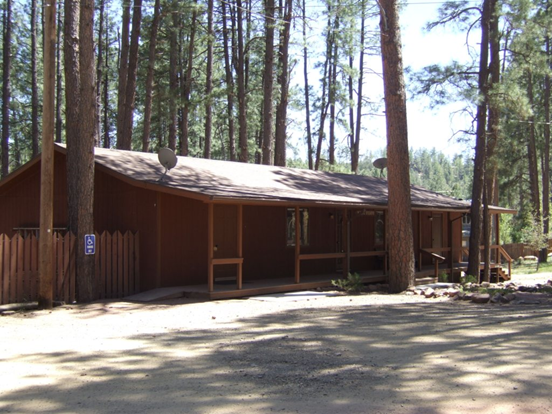 Turn around after Payson.
Mines to Pines covers a range of climates and offers diverse scenery on good roads.
The ride starts in the copper mining town of Claypool, Arizona and travels on SR 188 along the length of Roosevelt Lake.¬
The route then follows SR87, the Beeline Hwy, up Oxbow Hill¬ to Payson.¬ Just north of Payson, the route goes 10 miles out Houghton Mesa Rd in the pines.¬
The turnaround is at the end of the pavement, with the return following the same route back to Claypool.
Location: WalMart, Miami
Address: US 60, Miami
Directions:
Wal-Mart parking lot on US 60 in Claypool (between Miami and Globe, 1/2 mile west of AZ188 jct.)
View on line map here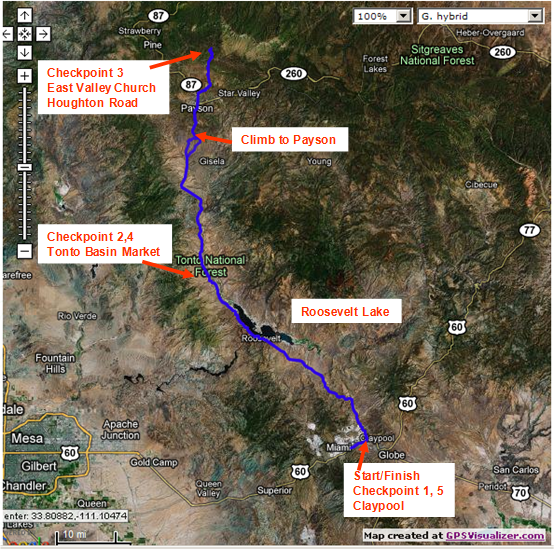 Cue sheets will be handed out at the start of each event. Copies are provided here for planning purposes. Make sure you use the cue sheets provided on the morning of the ride. They will be the most up to date.
Total climbing 9,696 ft! Take note of the route profile as the climbs on this ride are not rollers, but long, steady climbs.
This ride passes through several climate zones from 2200 ft at the lake to over 5200 ft elevation in the pines of Payson.
Take note of the last climb from Spring Creek Store to the top of Salt River Peak Pass. From the pass, the route is primarily downhill to the finish.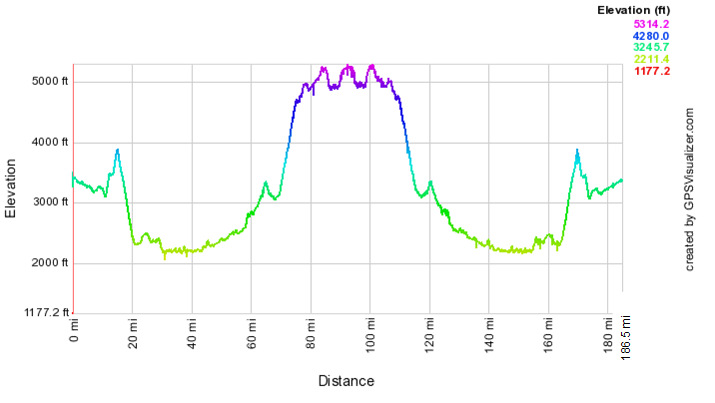 Riders are expected to do simple repairs such as repair a flat tire.
Lights, safety vest/belt, and ankle bands are required.
Start/ Finish is at the Wal-Mart in Claypool.
The first checkpoint is the Tonto Basin Market which is a full grocery store with a deli, pizza & ATM. This is the primary place for food along Hwy 188. Tonto Basin Market closes at 8 pm this year. On the return, this control closes at 9pm.
Butcher Hook Store and Restaurant is farther back from the road than the gas station. The store has a good selection of food, even bananas sometimes.
Jake's Corner Store has minimal food. You won't be feasting here, but it may be a life saver if you bonk. Better to plan on Tonto Basin Market.
Highway Rest Area at junction of AZ 188 and US 87 has NO water or rest rooms this year.
Checkpoint #3 is the East Verde Baptist Church. There are benches to sit on. The two creek crossings before Checkpoint #3 may have a few inches of running water in them.
Checkpoint #4 Tonto Basin Market closes at 8 pm, which is 1 hour before the closing time of the checkpoint. This is a key place to plan on stopping for food and water as it is a full grocery store with deli and ATM.
Spring Creek Store at mile 167 at the start of the final climb closes at 9 pm.
Tom Baker is your trail boss for this ride. Cell phone 602 309-3768
| Rider Name | RUSA # | City | State/Prov |
| --- | --- | --- | --- |
| Doug Hearon | 19773 | Albuquerque | NM |
| Mike Sturgill | 1847 | Phoenix | AZ |