Date:
Saturday, May 30, 2015
Distance: 380 miles
Start Time: 5:00 AM
There will be a mass start at 5 AM and announcements and time for questions at 4:45.

Start Location: Motel 6, Flagstaff (Get directions)
Time Limit: 40 hours
Sunrise:
5:12 AM
Sunset:
7:37 PM
Moonrise:
7:46 AM Saturday, Moon is only 9% illuminated.
Moonset:
10:11 PM Saturday
Cost: $55 Includes food Saturday night and vehicle support. All riders must pre-register. There is no day-of-event registration.
ACP sanctioned.
This information is preliminary and HIGHLY likely to change. Stay tuned as the route details are finalized...

The 600k is composed of two loops in the shape of a figure 8. Like the 300k, it starts in Flagstaff and goes to the Grand Canyon which is the most northern point. The second loop starts in Flagstaff and travels south through Oak Creek Canyon and Sedona. It crosses the Verde Valley and then climbs Hwy 260 (General Crook Trail). The route travels past Mormon Lake on Lake Mary Road before returning to Flagstaff.
Terrain: The 300k and the first loop of the 600k are strongly rolling. The second loop of the 600kstarts with a plunging descent down Oak Creek Canyon and then a steady 25-mile climb up Hwy 260 to the Mogollon Rim.
Location: Motel 6, Flagstaff
Address: Motel 6, Woodlands Village Mall, S. Woodlands Village Blvd, Flagstaff
View on line map here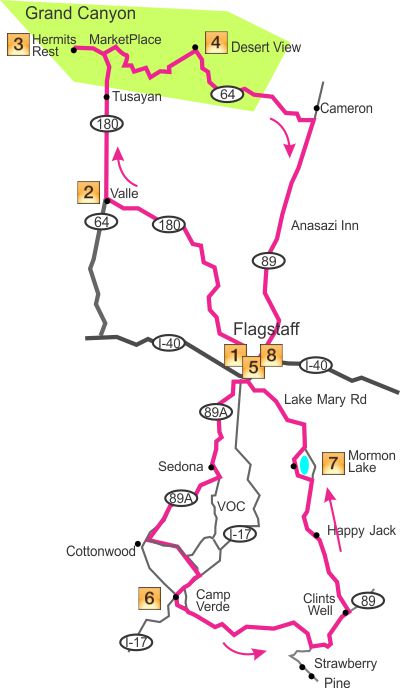 Cue sheets will be handed out at the start of each event. Copies are provided here for planning purposes. Make sure you use the cue sheets provided on the morning of the ride. They will be the most up to date.
Elevation gain for the 600k is about 19,000 feet over two days. Total elevation gain for the first 300k is 9,400 feet.

Second loop of the 600k: 9,500 feet of climbing
Lights: Required. There will be a light inspection at check-in to verify front and rear lights are working and are sufficient for night riding. Also required are reflective vest or sash and ankle reflectors.
Accomodations - The start/finish hotel in Flagstaff is the Motel 6 on Woodland Village Blvd. It can also serve as a sleep stop after the first loop of the 600k which is at mile 211.
Accomodations are the rider's responsibility. This will allow us to keep costs low and provide riders more flexibility. In this way, riders riding through the night on Saturday won't have the expense of a hotel. If any 600k riders want to share a room on Saturday night for a couple hours, I will facilitate that.
RV: There are several hotels close to the start in Flagstaff. Across the street from the start is a Walmart and Bashas (grocery store) where overnight parking is permitted
| Rider Name | RUSA # | City | State/Prov |
| --- | --- | --- | --- |
| Carlton van Leuven | 4713 | Chandler | AZ |