Date:
Saturday, February 16, 2013
Distance: 125 miles
Start Time: 7:00 AM
Sign in begins at 6 am. There will be a mass start at 7:00 AM and announcements and time for questions at 6:45.
Start Location: Town of Gilbert, corner of Power and Chandler Heights (Get directions)
Time Limit: 13.5 hours
Sunrise:
6:22 AM
Sunset:
6:38 PM
Cost: $10 All riders must pre-register. (No day of event registration.)
ACP sanctioned.
This route circles through the flat valley irrigated by the Gila River. The two Gila River crossings on the route are normally dry, as the Gila has been diverted into a canal just East of our route near Florence. On our route on the Florence-Kelvin Highway, we cross two canals that carry Colorado River and Gila River water side by side!
This route uses many of the roads south of the East Valley that cyclists often ride. On this ride, we will pass through Queen Creek, Gilbert, Chandler, Sacaton, Casa Grande, Eloy, 11 Mile Corner, Coolidge and Florence.
Location: Town of Gilbert, corner of Power and Chandler Heights
Address: Shopping center at the intersection of Power and Chandler Heights Rd in Gilbert
View on line map here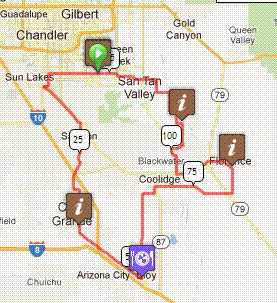 Cue sheets will be handed out at the start of each event. Copies are provided here for planning purposes. Make sure you use the cue sheets provided on the morning of the ride. They will be the most up to date.

1,200 feet accumulated feet
Riders are expected to do simple repairs such as repair a flat tire.
Lights: Optional. However, if you're still riding after sunset, you need lights as required by law.
There is food and restrooms in Bashas grocery store at the start.
In Casa Grande: Fry's plaza at Pinal Ave & McCartney
In Eloy, Coolidge and Florence: Circle K
| Rider Name | RUSA # | City | State/Prov |
| --- | --- | --- | --- |
| Bud MacRae | | Lake Havasu City | AZ |
| Carlton van Leuven | 4713 | Chandler | AZ |
| Charlie Brown | | Mesa | AZ |
| Clint Wisdom | 9242 | Chandler | AZ |
| Dana Lieberman | 2066 | North Hollywood | CA |
| David Brake | 7351 | Mesa | AZ |
| Dick Wiss | 2993 | Phoenix | AZ |
| Ezekiel Escamilla | | Chandler | AZ |
| Gerry Elam | 6882 | Phoenix | AZ |
| Gregory Sherman | 5342 | Chula Vista | CA |
| John Ingold | 3065 | Flagstaff | AZ |
| Lonnie Epic Wolff | 3100 | Cedar City | UT |
| Matthew Jungers | 8020 | Phoenix | AZ |
| Michael Barbour | 9248 | Queen Creek | AZ |
| Mike Enfield | 2751 | Mesa | AZ |
| Phil Kotofskie | 6648 | Tucson | AZ |
| Rebecca Smith | | Phoenix | AZ |
| Ronaele Foss | 3147 | Colorado Springs | CO |
| Sandy Caswell | | Kamloops | BC |
| Steve Atkins | 3359 | Tempe | AZ |
| Wayne Churchman | | Mesa | AZ |