Date:
Saturday, January 12, 2013
Distance: 125 miles
Start Time: 7:30 am
There will be a mass start at 7:30 AM and announcements and time for questions at 7:15.
Start Location: Round Trip Bike Shop (Get directions)
Time Limit: 13.5 hours
Sunrise:
7:30 am
Sunset:
5:40 pm
Cost: $20 All riders must pre-register. (No day of event registration.
ACP sanctioned.
This route is composed of two sections; both sections begin and end in Casa Grande. The first section is a loop that travels north through the Gila River Indian Community with a checkpoint at Casa Grande Ruins National Monument. The second section is out and back and goes south through the Sonoran Desert on the Tohono O'odham reservation. First loop: The route travels north out of Casa Grande and onto SR 387 which is the Gila River Indian Community. This is the only climb on on the ride. (SR 387 has a 3 mile climb, 6% grade) These mountains provide a sanctuary for saguaro and other cactus, making SR 387 one of the prettiest roads around Casa Grande.At the Casa Grande Ruins National Monument, write down on your brevet card the answer to the question posed on the cue sheet. This 40-mile loop ends where it begins - at the Round Trip Bike Shop in Casa Grande. You will have access to your car to shed some clothes and pick up supplies. Second loop: The second section is out and back on Indian 15. It travels south out of Casa Grande and into the Tohono O'odham Indian reservation. This area is mostly undeveloped and composed of rolling hills dotted with sahuaro cactus. The terrain is flat with a few long, rollers. (Total 1,480 feet of accumulated elevation. See elevation profile.) This second loop in particular is very remote. The only services you will find are our checkpoints. Checkpoints are about 40 miles apart. A hydration system such as CamelBak is highly recommended.
Location: Round Trip Bike Shop
Address: 1148 E. Florence Blvd, Casa Grande, AZ.
Click
HERE
for a Google map of the start location.
Lodging in the area:
View List
View on line map here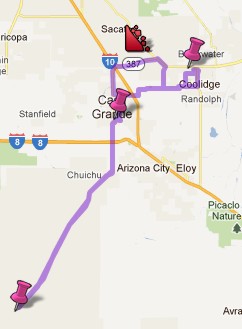 Cue sheets will be handed out at the start of each event. Copies are provided here for planning purposes. Make sure you use the cue sheets provided on the morning of the ride. They will be the most up to date.

1. "Big" hill just north of Casa Grande. 4% grade at most. 2. Woodruff Road, after the college. 3. Back at the Round Trip Bike Shop 4. Entering the reservation. Long rollers after that and nothing I would stand up for. 5. Turnaround and lunch stop.1480 feet of climbing.Minimum/maximum elevation: 1360 / 1786 feet above sea level.
Riders are expected to do simple repairs such as repair a flat tire.Lights: Optional. However, if you're still riding after sunset, you need lights as required by law.
Mile 0: The bike shop will be open before the ride at checkpoint #1. Bathrooms available.
Mile 31: Bathrooms and water are available at the ruins checkpoint #2.
Mile 32: Fast food and grocery stores in Coolidge after you leave the ruins.
Mile 53: Free snacks and water in the bike shop, checkpoint #3. You will also have access to your car here. You may want to shed some clothes and pick up a hydration system for the southern loop.
Mile 88: Free sandwiches, snacks, and soda at the lunch checkpoint #4 on Indian 15.
About mile 120: Bob's Market on the left after you leave the reservation.
| Rider Name | RUSA # | City | State/Prov |
| --- | --- | --- | --- |
| Adam Lock | | Chandler | AZ |
| Allen Booker | 8286 | Tempe | AZ |
| Brian McGuire | 7406 | Phoenix | AZ |
| Carlton van Leuven | 4713 | Chandler | AZ |
| Dale Jacobs | 7379 | Peoria | AZ |
| David Draper | 5254 | Las Vegas | NV |
| David Nyer | | Tempe | AZ |
| Fran Flesch | 6293 | Deerfield | IL |
| Greg Olmstead | 3318 | San Diego | CA |
| Ilyssa Summer | | Tempe | AZ |
| Jim Flesch | 6292 | Scottsdale | AZ |
| Mark Mandel | | Green Valley | AZ |
| Mark Tauber | | Tempe | AZ |
| Matthew Jungers | 8020 | Phoenix | AZ |
| Mike Sturgill | 1847 | Phoenix | AZ |
| Mike Enfield | 2751 | Mesa | AZ |
| Peggy Petty | 4613 | Gilbert | AZ |
| Phil Kotofskie | 6648 | Tucson | AZ |
| Philip James Conmy | | Phoenix | AZ |
| Rebecca Smith | | Phoenix | AZ |
| Roger Peskett | 3726 | Tucson | AZ |
| Ryan Guzy | 6005 | Tempe | AZ |
| Sarah Mason | | Tempe | AZ |
| Scott Walters | 6036 | Tempe | AZ |
| Stephen Kenny | | Calgary | AB |
| Steve Atkins | 3359 | Tempe | AZ |
| Steve Petty | 4612 | Gilbert | AZ |
| Tom Kenny | | Calgary | AB |