Date:
Wednesday, March 25, 2015
Distance: 125 miles
Start Time: 7:00 am
There will be a mass start at 7:00 AM and announcements and time for questions at 6:45.
Start Location: Twin Peaks Rd, Marana (Get directions)
Time Limit: 13.5 hours hours
Sunrise:
6:21 AM
Sunset:
6:39 PM
Cost: $15 All riders must pre-register. (No day of event registration.)
RUSA sanctioned.
The route starts in Marana and heads north on the I-10 frontage road before turning east on Park Link Road. Park Link Road has recently been paved, and offers little traffic, and a beautiful Sonoran Desert landscape
Park Link Road ends at AZ 79/Pinal Parkway, where we head south. Before reaching Tucson, we turn east to the town of Oracle. The turnaround is in the town of San Manuel. Being a brevet, riders must collect proof of passage in San Manuel which may be a receipt from a store, ATM, or restaurant.
After the turnaround, riders will experience Webb Rd, another quiet and recently paved desert road. Then the route heads south on Oracle and Tangerine.
Location: Twin Peaks Rd, Marana
Address: Intersection at Twin Peaks Rd and Silverbell Rd, southeast corner
Directions:
From I-10
: Get off I-10 in Marana, at Twin Peaks Rd Exit 244/245. Follow Twin Peaks Rd in a SW direction for 1.7 miles. The brevet start is at the intersection of Twin Peaks Rd and Silverbell Rd, SE corner, where you will see the Safeway store on your left.
Google map:
Click here
View on line map here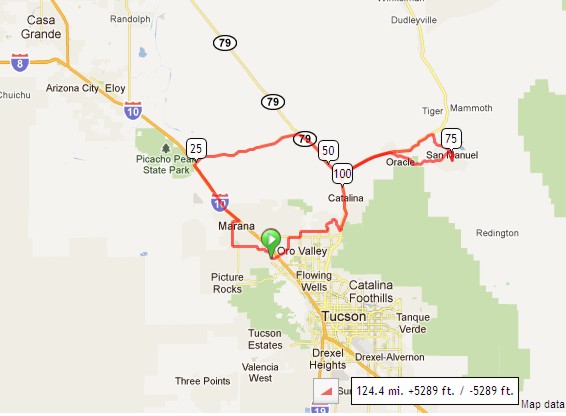 Cue sheets will be handed out at the start of each event. Copies are provided here for planning purposes. Make sure you use the cue sheets provided on the morning of the ride. They will be the most up to date.
5,300 feet of elevation gain - but much of this is at around 2% grade.
Riders are expected to do simple repairs such as repair a flat tire.
Lights: Optional. However, if you're still riding after sunset, you need lights as required by law.
Mile 0: Bathroom and coffee at the start at Rock n Java Cafe.
Mile 13: Circle K in Marana. No services next 40 miles.
Mile 52: Roadside station with food and snacks on AZ-79/Pinal Parkway
Mile 76: Mini Market & Subway sandwich shop
Mile 103: McDonald's in Catalina
Mle 107: Convenient store on the corner of Oracle & Rancho Vistoso.
| Rider Name | RUSA # | City | State/Prov |
| --- | --- | --- | --- |
| Mike Sturgill | 1847 | Phoenix | AZ |