Date:
Saturday, March 21, 2015
Distance: 257 miles
Start Time: 5:00 AM MST
Registration opens at 04:20 AM. There will be a mass start at 05:00 AM and announcements and time for questions at 04:45 AM. Note: Arizona does not observe Daylight Savings Time, and stays on Mountain Standard Time year-round. For example, in the summer months, during Daylight Savings Time, the time in Arizona and California is the same; Utah, Colorado, and New Mexico are one hour ahead.
Start Location: Walmart, Casa Grande (Get directions)
Time Limit: 27 hours
Sunrise:
06:30 AM
Sunset:
06:38 PM
Moonrise:
07:22
Moonset:
02:12
Cost: $40 All riders must pre-register. (No day of event registration.)
ACP sanctioned.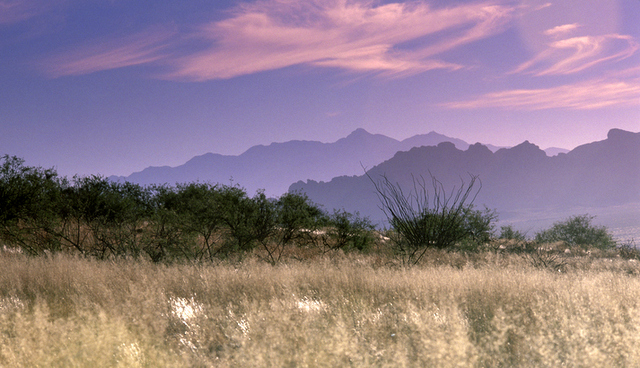 Purple Mountains Majesty over Arivaca
This route is out and back between Casa Grande and Arivaca. The farthest end of the route is a loop formed by the towns of Sahuarita, Green Valley, Arivaca and Robles Junction.
Terrain: Mostly flat and rolling for the first 60 miles until we enter Saguaro National Park. You'll find short, choppy hills there. Mission Road (starting at mile 80) is a slight but long climb until we plunge downhill again into Green Valley. The area around Arivaca (the southern most point on the brevet) is especially hilly. These short, choppy hills begin on Arivaca Road (starting at mile 115). After you leave Arivaca and turn north again on SR 286, it's smooth sailing back to Casa Grande. Total 4,610 feet of climbing.
Location: Walmart, Casa Grande
Address:
1741 E Florence Blvd, Casa Grande, AZ 85122
GPS coordinates: 32.877369, -111.712218
32 deg 52 min45 sec N, 111 deg 42 min 42 sec W
Directions:
WalMart parking lot at the north end between Chipotle/Aspen Dental and Panda Express/Game Stop
Click here for a Google map.
View on line map here

Full route map including Controls and Food locations: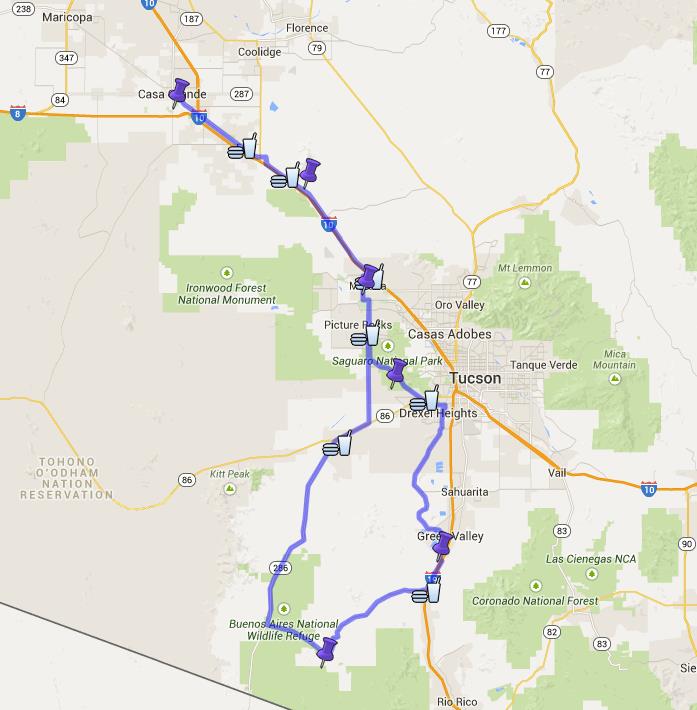 Cue sheets will be handed out at the start of each event. Copies are provided here for planning purposes. Make sure you use the cue sheets provided on the morning of the ride. They will be the most up to date.

1. Turn onto Mile Wide Rd. Short, choppy hills through Saguaro National Park.
2. Steady climb at low grade on Mission Road
3. Pima Mine. Turn onto Helmet Peak Rd.
4. Turn onto Arivaca Rd. Many, short choppy hills to Arivaca.
5. Arivaca, checkpoint #4 and the lunch stop.
6. Three Points/Robles Junction
4610 feet of climbing.
Minimum/maximum elevation: 1398 / 3922 feet above sea level
Lights, reflective vest, ankle bands: Required. There will be a light inspection at check-in to verify front and rear lights are working and are sufficient for night riding.
Mile 0, checkpoint #1: Bathrooms and parking at the start.
About mile 15, town of Eloy: 24 hour Circle K
Mile 27.8: Food provided at checkpoint #2, Picacho Peak Plaza
Mile 45: Circle K in Marana
Mile 67: Food provided at checkpoint #3, Kinney Rd, Saguaro National Park
Mile 72: McDonalds and Circle K on the other side of the intersection of Ajo Way & Kinney Rd.
Mile 77.7: Convenient stores at the corner of Mission & Drexel. Check water - no services next 24 miles
Mile 105: Convenience store/restaurant in Green Valley, checkpoint #4
Mile 113: Cow Palace (restaurant) and convenience store at Arivaca Rd. Check water - no services next 22 miles
Mile 135: Food provided at checkpoint #5 in Arivaca
Mile 180: Store at Three Points on Ajo Way.
About mile 196, convenient stores at the corner of Sandario and Picture Rocks Rd. One convenient store is at the intersection, and the nicer one is just beyond the intersection on your left.
Mile 210: Circle K in Marana. This is checkpoint #6
Mile 228: Dairy Queen at Picacho Peak Plaza but this is only open until 6 pm.
About mile 240: in Eloy, 24 hour Circle K.
| Rider Name | RUSA # | City | State/Prov |
| --- | --- | --- | --- |
| Alan Johnson | 10020 | Phoenix | AZ |
| Brian McGuire | 7406 | Phoenix | AZ |
| Carlton van Leuven | 4713 | Chandler | AZ |
| Dustin Dinh | 9611 | Georgetown | TX |
| Kathy Behrens | 10228 | Redlands | CA |
| Michael Mooney | 10406 | Tempe | AZ |
| Michael Bratkowski | 5324 | Studio City | CA |
| Patrick Rinckey | 9303 | Tucson | AZ |
| Robert Larson | 9945 | Phoenix | AZ |
| Roger Peskett | 3726 | Tucson | AZ |
| Roger Hardy | 10227 | Redlands | CA |