Date:
Saturday, November 15, 2014
Distance: 125 miles
Start Time: 7:00 am
There will be a mass start at 7 AM and announcements and time for questions at 6:45.
Start Location: Twin Peaks Rd, Marana (Get directions)
Time Limit: 13.5 hours
Sunrise:
6:50 am
Sunset:
5:25 pm
Cost: $20 Pre-registration only. No day-of-event registration.
RUSA sanctioned.
This route travels from Marana (west of I-10), through the urban jungle of Tucson and up Mt Lemmon on Catalana Highway. Turn around is at the top of Mt Lemmon in the town of Summerhaven. Terrain: Flat to rolling for the first 40 miles to the base of the mountain. Then a 25 mile climb to the summit. Return the way you came.FAQ: Mt Lemmon is one big hill - will I make the checkpoints on time?Answer: It's not certain that everyone will make the checkpoints, but things are stacked in your favor. For one thing, the hill climb comes in the middle of the ride. If you ride to the mountain at a moderate speed, you'll have money in the bank. Don't kill yourself getting up the mountain, but don't take long breaks, either.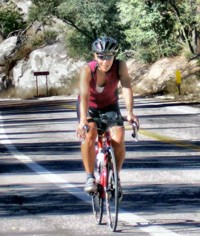 Carol Havrda looking strong and happy on the 25-mile climb on Mt Lemmon. (Photo: Susan Plonsky)
Location: Twin Peaks Rd, Marana
Address: Intersection at Twin Peaks Rd and Silverbell Rd, southeast corner
Directions:
From I-10
: Get off I-10 in Marana, at Twin Peaks Rd Exit 244/245. Follow Twin Peaks Rd in a SW direction for 1.7 miles. The brevet start is at the intersection of Twin Peaks Rd and Silverbell Rd, SE corner, where you will see the Safeway store on your left.
Google map:
Click here
View on line map here

Note: The map shows the outbound route only. We will be riding out and back.
Cue sheets will be handed out at the start of each event. Copies are provided here for planning purposes. Make sure you use the cue sheets provided on the morning of the ride. They will be the most up to date.

About 9,640 feet of climbing. Minimum/maximum elevation: 2291 / 8175 feet above sea level
Lights: Optional. However, if you're still riding after sunset, you need lights as required by law.
Start: Safeway - 9100 N Silverbell Rd Tucson, AZ 85743 is open on Saturdays at 5am.Mt Lemmon: There will be a volunteer with water at Windy Point Vista. Farther up the mountain at Palisades (5 miles from the summit) there MAY (not guaranteed) be water and outdoor toilets. At the summit, there are indoor restrooms and water in the community center which is on your right just as you enter town. There is also a general store in Summerhaven (at the summit) but don't expect anything more than snacks.
| Rider Name | RUSA # | City | State/Prov |
| --- | --- | --- | --- |
| Brian McGuire | 7406 | Phoenix | AZ |
| Dave Lehnen | | Tempe | AZ |
| Dennis Bland | | Calgary | AB |
| Gary Bonhee | | Phoenix | AZ |
| Gerry Goode | 60 | Tucson | AZ |
| Gina Honda | | Phoenix | AZ |
| Lee Wilkening | 10970 | Phoenix | AZ |
| Mike Sturgill | 1847 | Phoenix | AZ |
| Patrick Rinckey | 9303 | Tucson | AZ |
| Robert Larson | 9945 | Phoenix | AZ |
| Roger Peskett | 3726 | Tucson | AZ |
| Stephen Kenny | | Calgary | AB |
| Steve Barbazuk | 9286 | Vancouver | BC |
| Thomas Altemus | 4464 | Tucson | AZ |
| Trev Williams | | Calgary | AB |
| William Timothy | 10090 | Brooklyn | NY |