Date: Feb 04, 2017

Distance: 188 miles.
Start Time: 07:00 AM. There will be a pre-ride meeting before the brevet for last minute instructions.

Start Location: The start/finish control is the Walmart parking lot in Coolidge, AZ.
Address: 1695 North Arizona Boulevard, Coolidge, Arizona 85128
Google Map: http://goo.gl/maps/vQxmf
Time Limit: 20 hours

Sunrise: 07:21 AM

Sunset: 18:02

Cost: $40
ACP sanctioned.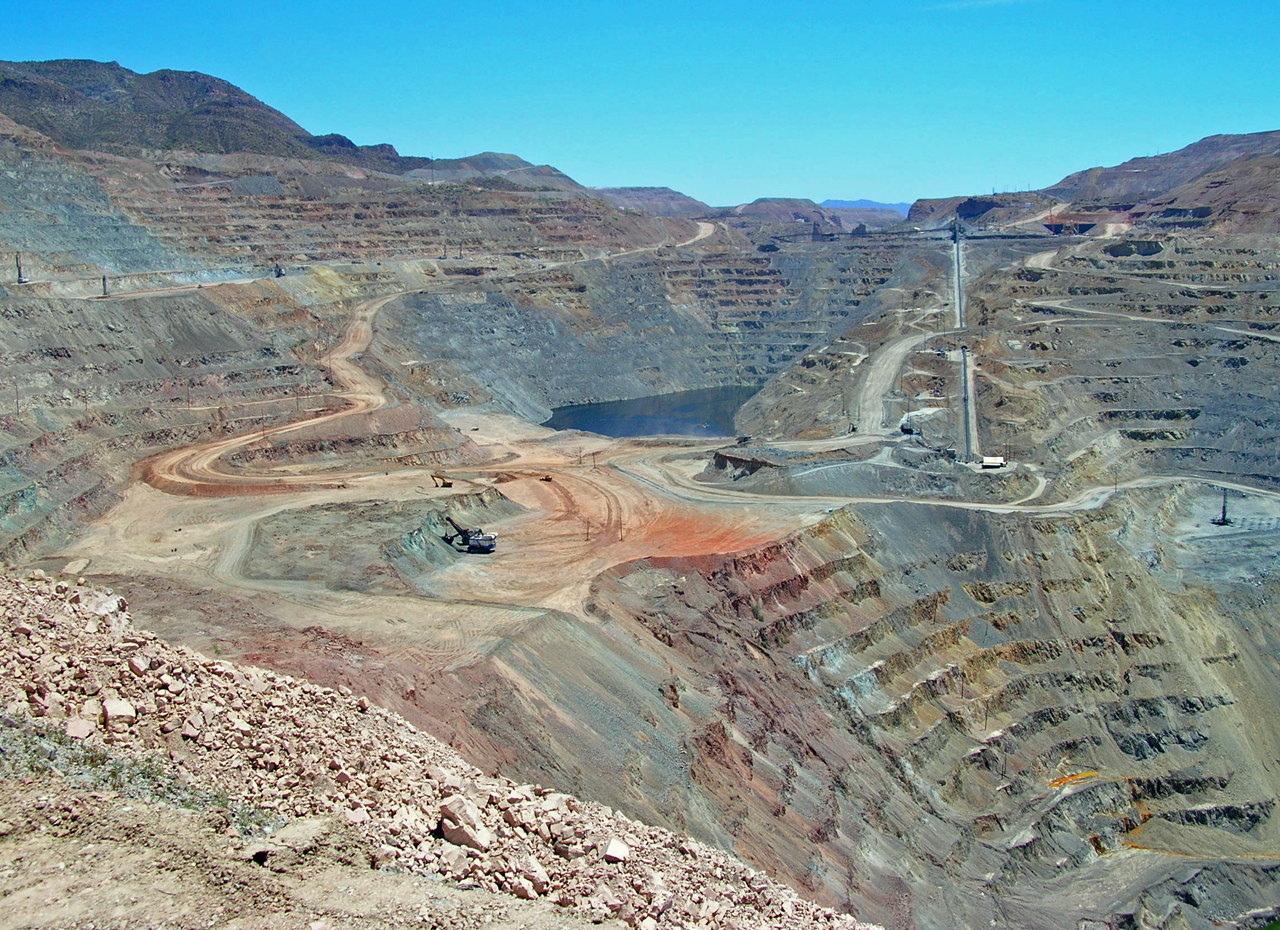 Gila Monster 300k
This route forms a loop around the Gila River, and provides scenic desert views through some historic Arizona mining towns. Starting in the Gila River Valley, we pass through Coolidge and then begin a gentle 50-mile 'false flat' climb to Oracle (averaging 1%, with a max around 4%). Oracle is a curios town at the bottom of Mt. Lemmon, so slow down and take a few digital photos. Next is a 33-mile descent into Arizona Mining Country. Pass through Mammoth on the way to Winkelman...then through Kearny, after which there are front seat views of the colorful Ray 'Open Pit' Mine. Next is the 8-mile 'Monster' climb (average 4-5%, with a max grade of 14%). This isn't as hard as it sounds, but better bring a compact or triple crankset if you have concerns. Pass through the mining town of Superior, and then enjoy 37-miles of views of the Superstition Mountains (think 'Arizona Highways' magazine)...home of the legendary 'Lost Dutchman' mine. Following a short out-and-back to the community of Gold Canyon, the route passes through the historic town of Florence before completing the loop in Coolidge.
View on line map
Download Excel cue sheet - Updated Feb-03-2017 (Final Superior detour)
Download PDF cue sheet - Updated Feb-03-2017 (Final Superior detour)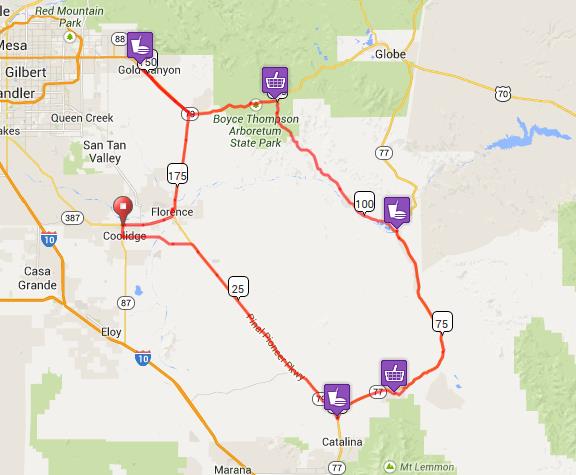 Total climbing is about 8000 ft., depending on which measurement device you use.
Take note of the route profile as the climbs on this ride are not rollers, but long, steady climbs. The climb that comes at mile 110 will definitely get your attention. It comes in 3 large steps. The last mile is particularly challenging. Remember, walking is just another gear!

Riders are expected to do simple repairs such as repair a flat tire.
Lights, safety vest/belt, and ankle bands are required if riding after sunset. Note that there is only about 11 hours of light for this ride since sunset is at 17:59. You should plan to have lights and reflective equipment with you at all times.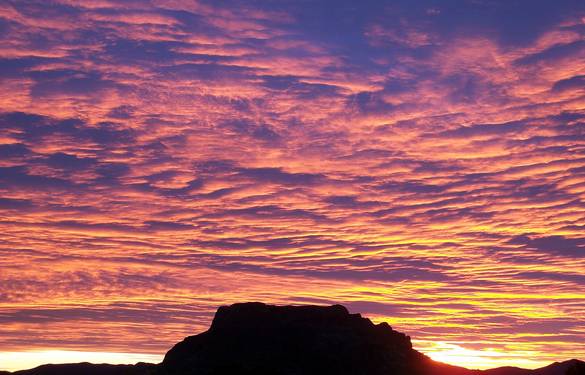 The Start/ Finish will be located in the Walmart parking lot in Coolidge, AZ. A Google map may be found here.
Rider limit: 100 riders
Carlton van Leuven is your trail boss for this ride. Still have questions? Contact Carlton HERE.
| | | |
| --- | --- | --- |
| 23 Registered | | Who's next? |
| Name | RUSA # | Location |
| Alan Johnson | 10020 | Phoenix, AZ |
| Art Grijalva | | Peoria, AZ |
| Catherine Dickson | 11693 | Glendale, AZ |
| Cindy Watkins | 8023 | Stow, OH |
| Dennis Sieber | 9202 | Anthem, AZ |
| Ian Keen | 10531 | Tucson, AZ |
| James Halay | 66 | Eden, UT |
| Jim Flesch | 6292 | Scottsdale, AZ |
| Jim Pettett | 5824 | Cave Creek, AZ |
| Louisa Larson | | Glendale, AZ |
| Mark Gregory | | Maricopa, AZ |
| Matt Brackbill | 7851 | Albuquerque, NM |
| Michael Garrett | 11701 | Sammamish, WA |
| Mike Sturgill | 1847 | Phoenix, AZ |
| Paul Anderson | | Calgery, Alberta Canada |
| Paul Danhaus | 1940 | Wausau, WI |
| Robert Larson | 9945 | Paradise Valley, AZ |
| Roger Peskett | 3726 | Tucson, AZ |
| Ron Hoover | | Edminton, Alberta Canada |
| Stephen Barbazuk | 9286 | Vancouver, BC Canada |
| Stephen Kenny | | Calgary, Alberta Canada |
| Steve Atkins | 3359 | Tempe, AZ |
| Suzanne Stack | | Yuma, AZ |
| | | |