Date:
Thursday, April 3, 2014
Distance: 373 miles
Start Time: 05:00
There will be a mass start at 5 AM and announcements at 4:45.

Start Location: W Cortaro Farms Rd, Tucson (Get directions)
Time Limit: 40 hours
Sunrise:
6:10 AM
Sunset:
6:45 PM
Moonrise:
5:25 PM, previous day. Waxing gibbous with 100% of the Moon's visible disk illuminated.
Moonset:
5:42 AM Saturday
Cost: $60
ACP sanctioned.

Saguaro National Park under beautiful Arizona blue skies!
Blow by Blow: First off, we'll climb Gates Pass (the easy way) in Saguaro National Park - a virtual saguaro and cactus forest. After that we're only on the streets of Tucson for a short time before heading south to the border town of Arivaca, home to the Buenos Aires Wildlife Refuge.

After leaving Arivaca, we'll head further south through Tumacácori National HIstorical Park on our way to Nogales. Before we get to the border, we'll head back north and ride through the self-proclaimed "quirky" town of Patagonia. This is a natural riparian area between the Santa Rita and Patagonia Mountains. Our contol is located here so we'll have the opportunity to enjoy some of the local flavor.

At this point we'll be entering the high desert wine region of Southern AZ. Elevations will stay between 4000' to a maximum of 6000' in Bisbee. Springtime temperatures should be very pleasant during the day and can be quite cool/cold after dark. The desert cools down very quickly as the sun sets. Winds can also be a friend or foe depending on one's direction of travel.

The old west town of Tombstone will be our next destination and control. If you have some time in the bank, you can visit Allen Street. Allen Street is one of the most notorious streets in the old west and is alive and well. Throughout the past 140 years it has survived two major fires, the loss of the mining industry, and countless violent encounters. Each year many thousands of visitors walk where old west heros and villains lived, worked and fought. From boomtown to bust this little city earned its nickname, "The Town Too Tough To Die". If you arrive before 5 pm, you'll see people dressed in period clothes and stagecoaches. There are even public hangings on special occasions.

After Tombstone, we'll head to Bisbee. Today Bisbee has evolved into an attractive artist colony and retirement community, known for its relaxed quality of life. Travelers from all over the world come to Bisbee to savor its unique charm. Bisbee is also home to one of the BEST (my opinion) boutique coffee roasters anywhere, Old Bisbee Roasters. If you're up for a fantastic brew (and at 220 miles into the ride who wouldn't be) stop by "Peddler's Row" in downtown Bisbee and Seth will supply you with your fix. You'll want to be able to stay awake to get to the overnight stop in Sierra Vista, some 40 miles distant.

After the overnight stop in Sierra Vista, you'll ride through the US Army base of Fort Huachuca. Make sure you have a photo ID or passport. Otherwise, you will not be allowed onto the base. You're going to love riding through here! Low traffic, low speeds, polite drivers, great scenery, and maybe even a few little hills. Once you exit the Fort, you will be mostly descending for the next 100 miles... mostly.

The only impediment to your descending bliss and quick return to Tucson will be an 800' 2% climb out of Green Valley. Your penultimate control will be located just before this climb so you'll be able to fuel up for the quick dash to the finish.

Location: W Cortaro Farms Rd, Tucson
Address:
8352 North Cracker Barrel Road, Marana, AZ
Click
here
for a map to the start.
Directions:
Take I-10 to Cortaro Rd in Tucson. Go east for about 0.1 mile to Cracker Barrel Rd. Look for the motel.
Lodging in the area:
View List
View on line map here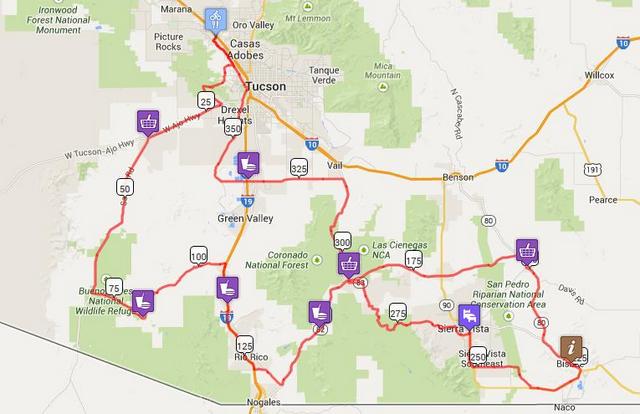 Cue sheets will be handed out at the start of each event. Copies are provided here for planning purposes. Make sure you use the cue sheets provided on the morning of the ride. They will be the most up to date.
Approx 14,000 feet of accumulated elevation gain
Minimum/maximum elevation: 2160 / 6000 feet above sea level.

Lights: Required. There will be a light inspection at check-in to verify front and rear lights are working and are sufficient for night riding. Also required are reflective vest or sash and ankle reflectors.
Hydration System: Much of the route is very remote with no services. Check the cue sheet carefully to determine how much water you need to carry to get you to the next water hole.
Services TBD

Rider limit: 75 riders

No registered riders at this time.