Date: The fleche takes place on the weekend of March 22-23. Allowable start times are from noon Thursday through 10 AM on Saturday.
Destination: The fleche destination is Tempe or Phoenix (depending on the start time).
1. Destination: Fleche riders need to decide a start time, and then find a destination which will be open 24 hours after the start time.
2. Teams: Create a team of 3 to 5 members. A tandem is counted as one member. Think of a clever name for your team.
3. Routes: Design a route of at least 360 km (224 miles). The start can be anywhere. The fleche destination will be determined by fleche riders when the start time is decided
Here are two things to keep in mind:
Note: Routes can be one way or a loop. Out and back is not allowed, except for short sections to gather supplies.
Note: A checkpoint is required 25 km/ 15.5 miles from the end; in other words, at least 25 km must have been ridden within the last two hours of the event.
4. Submit the route for approval by March 1st. Submittals should include maps, cue sheet, start time, and start location. Please email me your submittals.
5. Team rosters and signed waivers from all team members must be sent by US Mail and received by March 20th. (Waivers cannot be accepted by email.)
6. Individual team members can pay the ride fee on-line.

Fleche - A 24-hour event held on or around Easter weekend. This is an ACP-sanctioned event and counts toward the R-5000 medal. No rest stop may be longer than 2 hours. Allowable start times are from noon Thursday through 10 AM on Saturday. A minimum of 360 km (224 miles) must be covered during the event.
Teams: Each team is limited to a maximum of five members and a minimum of three members.
Routes: The traditional format for a flèche is point-to-point, like an archer's arrow (flèche in French) flying toward its target. Though not a classic flèche route, a large circuit or loop may also be used, such as to make a scenic tour of a region. However, an out-and-back route is not consistent with the traditions of the flèche.
At least 25 kilometers be ridden in the final 2 hours of the event. Teams must collect proof of passage at that time. It would be a good idea, then, to be in a town with services at that point.
Even more fleche rules and an overview of team events are listed on the RUSA web site.

Just to give you an idea how far that is in Arizona, here are some ideas for a one way route: have someone drop you off at the Grand Canyon and ride back down to Phoenix, either via Prescott on the west side, or on the east side via Flagstaff, Pine, Payson to Fountain Hills.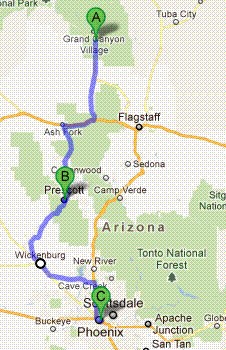 one way-Tusayan (Grand Canyon) to Phoenix) via Prescott
---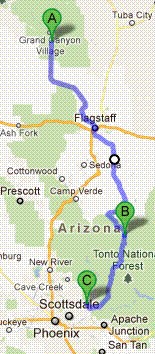 one way -Tusayan (Grand Canyon) to Phoenix via Payson
---
On the southern side of the state, starting in Bisbee and riding to Phoenix could give you the required mileage.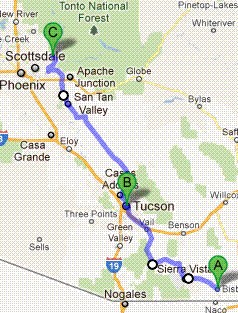 ---
Or again starting in the south, Tucson to Prescott could be 230 miles.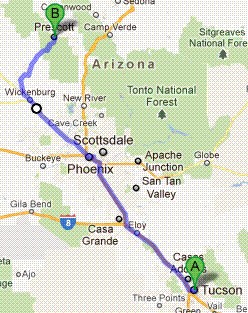 ---
Loops around Tucson: I'm not advocating for anything; these are just ideas.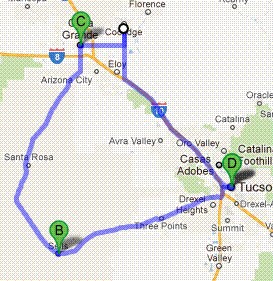 Loop on the west side of Tucson
Obviously, very remote and would need roving support.
---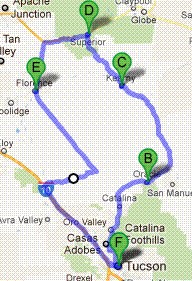 Loop on the north side of Tucson
Many of us are familiar with this route.
---
Making a loop south of Tucson looks an awful lot like the Arivaca 400k or Tombstone 600k (which means, "Been there, done that.") Out and back from Tucson to Tombstone would not be allowed.
To avoid any out and back segments, you could take the interstates (19 or 10) but that doesn't sound safe or fun.
Note: I included a map below for your convenience, but I didn't mark it up. This would take more work, and I'm not sure I could make a 224 mile loop in this area.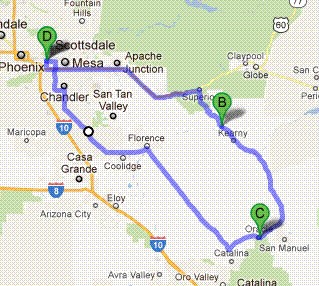 Loop east of Phoenix
---
Loop west of Phoenix. Tom Baker developed this route as part of the Around the Bend 400k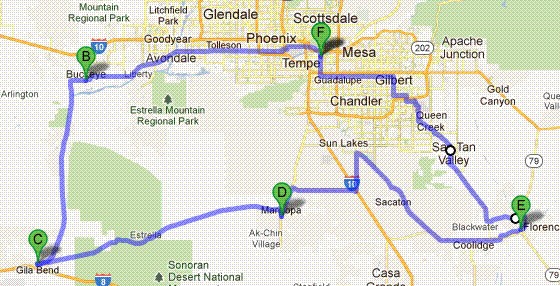 ---
Loop north of Phoenix. Mike Sturgill will have some better ideas. My route has a lot of freeway driving.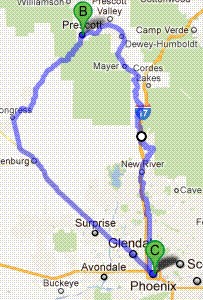 ---